The 69th Annual Golden Globes were on Sunday, and the red carpet fashion was quite tame this year. We saw lots of pale pinks and grey as well as a few peacock blues. Here are my votes for the best and worst dressed at the Golden Globes. The best dress are in order of my favorites. Take a look and tell me if I missed any of your favorites!
Best Dressed:
Nicole Kidman in Versace.
I can't remember the last time she looked so amazing! She looks like a beautiful Greek statue! This shape is stunning on her, and it seems like she has stopped getting work done, which means we can see her smiling again!
Sophia Vergara in Vera Wang.
It's not that different of a look for Sophia, but she knows what works for her curvy body type. I loved the colour and the close up red carpet shots, the bottom of the dressed looked really beautiful.
Reese Witherspoon in Zac Posen.
I don't know what was but she was glowing last night! I'm not normally a huge fan of her on the red carpet but she looks absolutely stunning here. I especially love her make up, very subtle but enough to make an impact.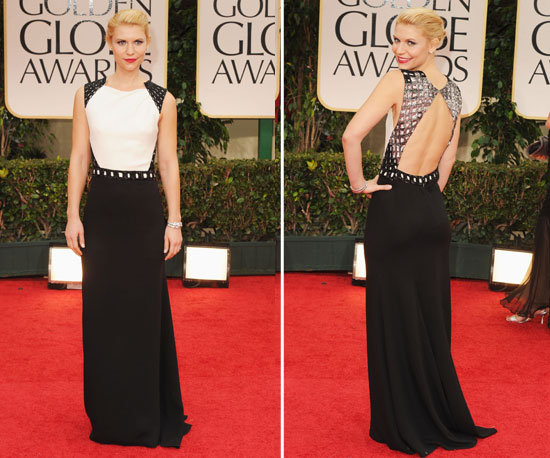 Claire Danes in J. Mendel.
She was one of the first people I saw on the red carpet and I instantly loved her dress. She always opts for something pretty classic, but the back adds an edgy twist.
Salma Hayek in Gucci.
I loved the close up shots of this dress. I liked that it was a bit different from most styles that were on the red carpet. Just when you think Salma couldn't be more beautiful she knocks one out of the park!
Charlize Theron in Dior.
At first glance I wasn't sure about this dress, but the more and more I saw it I grew to love it. I also loved her hair and make up. It completes the overall look perfectly.
Worst Dressed:
Most people on the red carpet played it pretty safe and looked beautiful, but unfortunately there was 2 people that didn't quite do it for me. Here are my picks for worst dressed;
Zooey Deschanel in Prada.
I hate to say this, because I am a huge fan of Zooey's but this dress was not flattering on her petite frame, and her hair…yikes. You can't really tell in this photo, but in some angles, one of her layers looked like side burns…not a look you want to go for. On a brighter note, her make up looked amazing!
Angelina Jolie in Atelier Versace.
When she first hit the red carpet I didn't mind this dress, but as the night grew on she looked uncomfortable and cold. The fabric of this dress cheapened it to me, and I did not like how thin she looked last night.
Did you enjoy the awards last night? I felt Ricky Gervais was quite safe last night…there was a few good one liners from Seth Rogan and Meryl Streep! I'm glad The Artist won a few awards, it was a great film. Michelle Williams did a great job in My Week With Marilyn so she deserved the win, even though I'm not sure why it that film was categorized as a comedy/musical…The Golden Golbes are usually a hint as to what we will see at the Oscars, so it should be interesting to see if a few of the same people bring home the win!